Dovetail Ridge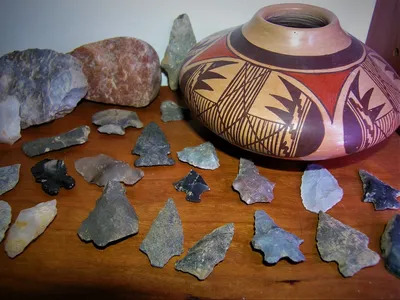 Dovetail Ridge, approximately 2,500 feet elevation above sea level, is a bench on the north side of Peter's Mountain in Monroe County, West Virginia. A bold spring of clear, naturally filtered water, and abundant sunshine and rainfall make this a very fertile ground. As we farm the land, we find evidence of the historical inhabitants who have left behind artifacts ranging from musket balls embedded in tree trunks, to rusty iron plows buried under the soil, and from split chestnut fence rails to large mounds of field stone from which have sprouted giant oak and maple trees.
We honor and marvel at the many generations of Native Americans who lived, farmed and hunted on what we have named Dovetail Ridge, wondering what their name was for this bountiful place of well-being. The arrowheads pictured here were all found in the hemp field in the last year and a half. The varieties of styles and types of stone from which they are made and the fact that we find so many arrowheads indicates many generations of inhabitants. The seed jar with which the arrowheads are pictured is from Arizona, made by descendants of the Hopi-Tewa potter Nampeyo of First Mesa.
We believe we have captured the essence of this fine place in our artisanal CBD Oil and Salve.